6/9/2016

Tronly is a chemical manufacturing company, founded in 1997, that specializes in UV Curing chemistries.  The company boasts nearly twenty years of experience developing and creating products including photointiators, UV curable monomers and oligomers.
Tronly is based out of China, and since its beginning has grown significantly. The company now holds three subsidiary companies, multiple advanced research and development centers, two chemical production plants, and in 2015 had over $52 million in sales. Tronly partners with photoresist industry leaders such Eternal Chemical, and supplies products to companies all over the world. They take up over 90% of the market share for Cationic UV Curing in Europe where they sell to companies such as Akzo Nobel, Valspar, PPG and Sun Chemical. Tronly is just beginning to bring its strong portfolio to North American markets. dsf dsf dsf
Tronly is an application-oriented company that is dedicated to creating innovative solutions within the UV industry. Their photointiators and UV curable monomers and oligomers are widely used in dry film for PCB, color filter for LCD, specialized chemicals for semiconductors, inks, coatings, and the 3D printing industry.
Photointiators
Photo Acid Generators
Oxime Sulfonate Series
Triazine Series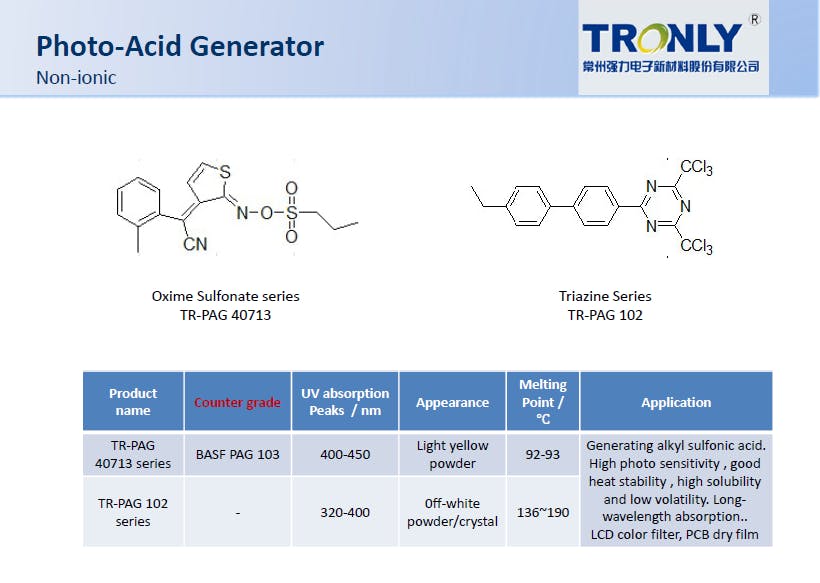 Cationic Photointiators
Products
Sulfonium/Iodonium
Aryl-Sulfonium Salts
Aryl-Iodonium Salts
Product Qualities
No Oxygen inhibition during UV curing process
Tack free surface curing
Low film shrinkage and high gloss
Good adhesion to different kinds of substrates
High abrasion and scratch resistance
High chemical resistance
Balanced film flexibility and hardness
Free Radical Photoinitiator
PBGs Series (Oxime Ester)
HABI Series (Bis-IMIDAZOLE)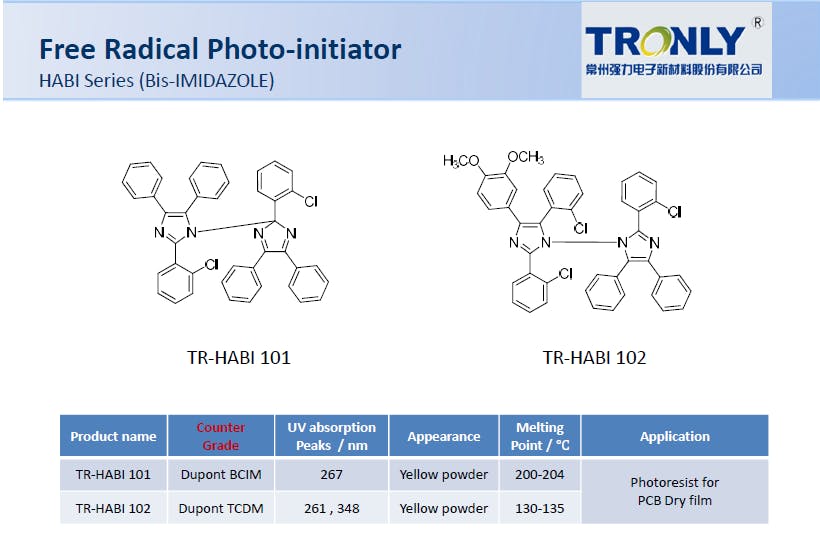 Photosensititzer
Acridine Series
Coumarin Series
Anthracene Series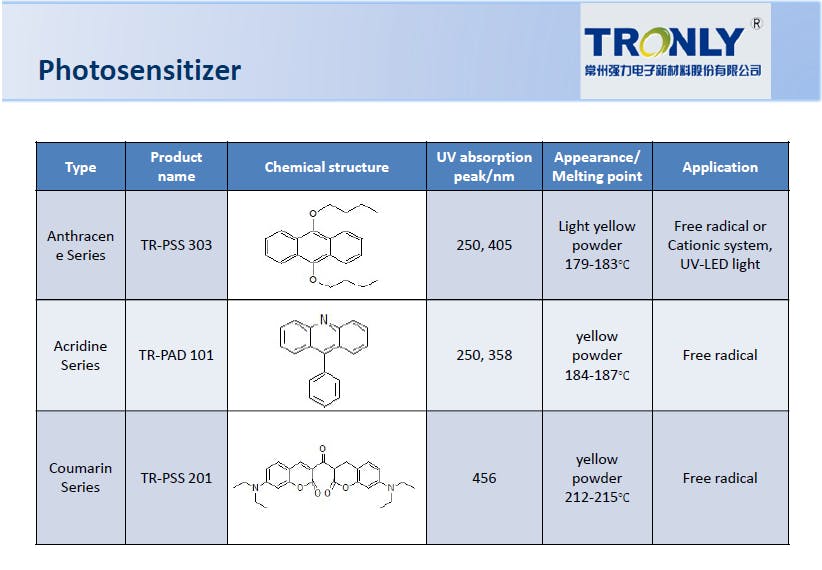 UV-Curable Monomers & Oligomers
Monomers
Oxetane Series for Cationic
Applications: Metal coating and varnish coating for plastics, glass, paper, flexo ink, inkjet ink, and electronic coatings and sealants.
Oligomers
Applications: Automotive and industrial coatings, offset inks, flexo inks, screen ink, and overprint varnish.
Research and Development
Tronly's philosophy for their R&D is "Innovation is the root of development; talent is the source of all innovation." For this reason Tronly has over 30% of its workforce in research and development and commits to only hiring high leveled professional technicians. This commitment to research and development has resulted in over 12 patents, and a number of Chinese technological awards. Aside from Tronly's expertise in high end photointiators their R&D department specializes in organic synthesis, polymer synthesis technology, molecular structure design, light curing reactions, and technical development of electronic materials.
Tronly keeps improving their current technology through constantly interacting with customers' questions and feedback. They work to help customers find their correct solutions.
If you have any questions about Tronly, or are interested in technical information, samples, or pricing please contact us.